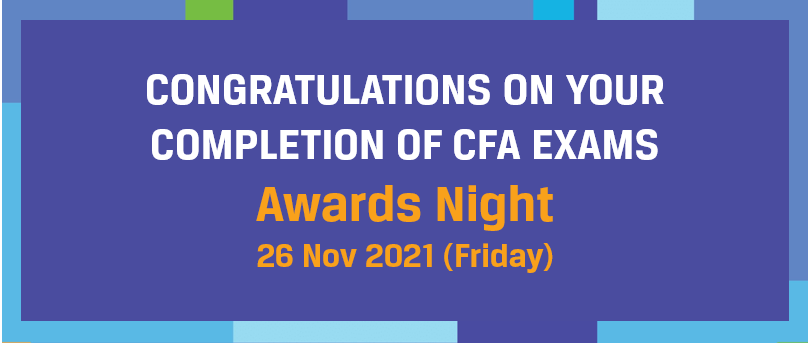 [Member Exclusive Event] Awards Night (26 November)
(CODE: 211126N13-AN)
Congratulations on your successful completion of the CFA exam in 2020-2021.
Come and celebrate your career milestone with other Level III CFA exam achievers and meet your fellow members and senior officials from CFA Institute and CFA Society Hong Kong (the "Society") on 26 November 2021 (Friday) evening.
We are excited to have Ms. Angelina Kwan, Senior Adviser to the Board, HashKey Group as our keynote speaker sharing her expertise in regulatory compliance and new economy, leading to the CFA Charter award presentation ceremony officiated by Mr. Nick Pollard, Managing Director of CFA Institute, Asia Pacific.
During this member-exclusive event, a presentation-sized charter will be conferred to all eligible new CFA Charterholders exclusively on the stage#. Professional photographers will capture moment of your career achievement during the event. A link will be shared to access digital photos after the event.
Please click here to become a regular member of the CFA Society Hong Kong if you are yet to join. The CFA Institute may take 7 to 10 business days for the review process.
Member rate: @HK$250 (Members login is required, guide here)
Event enquiry: member@cfahk.org / 2521-2543
---
#Important note:
Awards Night is a member-exclusive event for active CFA Society Hong Kong members only.
The presentation-sized charter will be exclusively awarded to CFA Charterholders who earned their charter during the period from 6 November 2019 to 31 October 2021 and have successfully registered for this event. It is an extra replica, printed on 8.5" x 11" museum quality paper, issued by CFA Institute U.S.
If your regular membership is activated post 31 October 2021, no presentation-sized charter could be arranged for this event.
---
About the Keynote Speaker

Ms. Angelina Kwan, CPA, CA
Senior Adviser to the Board, HashKey Group
Ms. Angelina Kwan is currently the Senior Adviser to the Board of the HashKey Group, a regulated digital assets company. Most recently she was the Chief Operating Officer and Chief Risk Officer at the HashKey Group and has held Chief Operating Officer and Directorate positions with digital asset exchanges, HKEX, Cantor Fitzgerald, the SFC and other global financial services companies. She owns Stratford Finance Limited, a consulting company focused on dealing with regulatory issues in the financial services and digital assets sectors and advises brokerages, fund managers and technology providers.
She is a Hong Kong Government appointed Member of the Council for Sustainable Development; a member of the New Business Committee of the Financial Services Development Council; a Member of the Lord Wilson Heritage Trust; the Vice Chairman of The Women's Foundation; an Honorary Fellow and Director of the Hong Kong Securities and Investment Institute, and a Fellow of the Hong Kong Institute of Certified Public Accounts and the Chartered Accountants of Australia and New Zealand. Ms. Kwan is a Certified Public Accountant in the United States, Hong Kong, Australia, New Zealand and a graduate of the University of Southern California. Her MBA is from Pepperdine University and LLB from the Hong Kong University and the Manchester Metropolitan University. She is currently completing her LLM at Harvard Law and regularly lectures on legal, regulatory, fund management, securities, FinTech, Digital Assets, Blockchain and corporate governance topics for a number of international organisations including ADB, APEC, DFAT Australia, CMDA Maldives, universities, and training providers including AICD, SIDC, HKSI.
About the CFA Charter Presenter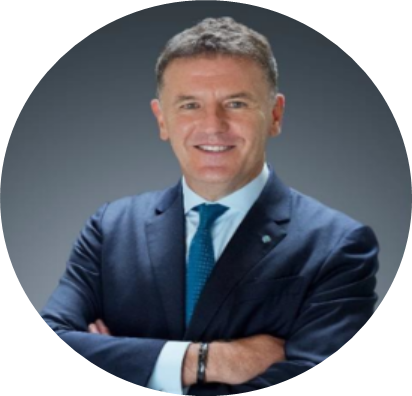 Mr. Nick Pollard
Managing Director, Asia Pacific, CFA Institute
Nick Pollard joined CFA Institute in 2016 as managing director for Asia Pacific. Based in the Hong Kong SAR office, he also oversees operations in Beijing, China and Mumbai, India. Nick is responsible for working with all CFA Institute stakeholders, increasing the number of candidates entering and moving through the organization's credentialing programs, and working with institutional partners (employers, universities and regulators) throughout the region. He is actively engaged with 21 CFA Institute societies that represent around 40,000 members in the region.
Nick is a seasoned wealth management and banking executive and skilled at growing businesses in Europe and Asia. He brings a unique combination of strategic leadership skills as well as learning and professional development expertise. Prior to joining CFA Institute, Nick was CEO of The Royal Bank of Scotland's Coutts Asia division and, most recently, he was the Head of International Learning and Professional Development for Coutts International. Nick began his career with NatWest Group, subsequently part of the RBS Group, where he gained experience in marketing and talent development.
Nick earned his B.A from University College, London and is a Member of the Private Wealth Management Association. He has lived and worked in the APAC region since 2009 and resides in Hong Kong.
About the MC
Mr. Nicholas Jackson
CFA, Co-chair of Society Member Services Committee
---
Remarks:
Event policy for Substitutions, Cancellations and No Show applies
All event registration and online payment should be completed by 31 October 2021 (Sunday). Please note that no presentation-sized charter could be arranged after this date.
The admission e-ticket with event details will be sent to your registered email by 24 November 2021 (Wednesday). If you have not received the email reminder from the Society, it is the delegate's responsibility to contact our staff office for assistance.
All cancellation requests must be made by 31 October 2021 (Sunday) and be confirmed by email from the Society. The event fee refund will be arranged within 4 weeks after the event. For written request made after 31 October, NO refund will be arranged.
The whole event will be video-taped for record keeping purpose. Event photos will be posted on the Society's website and social media like Facebook and LinkedIn page.
Guest ticket is for invited guest of registered member only.
The Society will closely monitor and assess the ongoing situation of COVID-19 in the city. Should there be any changes to the event date or other arrangements, we will notify participants via SMS and/or email. Notices will also be posted on the Society's website. Please stay alert to our notifications.
The Society reserve the right to change the format, date or speakers of the event due to unforeseen circumstances without prior notice.
In case of dispute, the decision of CFA Society Hong Kong is final, and no further correspondences will be entertained.
Your personal data collected from the registration process will be used for the purpose of the administration of the event you are registered for. Please refer to our Privacy Policy for details.
Onsite arrangements:
No walk-in guests will be accepted and the seats will only be reserved for the paid registrants.
Registrants will be requested not to attend it if they have contracted or are suspected to have contracted COVID-19 or have been in close contact with anybody who has contracted or is suspected to have contracted COVID-19.
Mandatory screening of body temperature and health declaration form will be performed onsite at the registration counter.
Registrants with a body temperature above 37.5 degree Celsius or who exhibit flu-like symptoms will be denied entry into the venue and be requested to leave.
Registrants must wear surgical face masks throughout the event.
Due to COVID-19 considerations, no food, drinks or other refreshments are allowed at the venue.