Having established an authoritative voice for Hong Kong's investment professionals for over 30 years, CFA Society Hong Kong as the world's 4th largest CFA Society banding together over 6,600 trusted investment professionals has contributed to Hong Kong's ongoing success as a world-class global financial hub.
As CFA Society Hong Kong celebrates three decades of success in 2022, it is committed to amplifying its roles in elevating the professional standing of investment professionals with continuing professional development; expanding the CFA community by making professionals proud of being a CFA Society Hong Kong member and creating a pipeline of world-class investment professionals through connecting with and grooming students in financial disciplines; cementing trust of the profession with strong advocacy and as a custodian of professional ethics – all working together towards reinforcing Hong Kong's solid position as an international financial hub, for 30 years and beyond.
Created mentorship and members-only programs for professional improvement and advancement

Constructed a recognized and exclusive network of investment professionals in Hong Kong and the world

Delivered global opportunities through the global CFA network

Helped existing and potential members stay ahead of new trends
Maintained professional standards as an SFC-recognized provider of continuing professional training

Fostered global connection with APAC of CFA Institute

Developed an authoritative voice for the industry in relevant Hong Kong issues through advocacy and as a champion of professional ethics

Made the CFA gold standard a seal of qualification for the profession
Strengthened and upheld professional standards and ethics for the investment industry

Inspired and developed generations of local investment talent with a global outlook to support the local economy

Evolved Hong Kong's profile as an attractive hub for international investment professionals through global CFA affiliations

Integral to Hong Kong's ongoing success as a world-class international financial hub with professionals offering CFA gold-standard investment services
30th Anniversary Event Highlights
"Catch Our Tram" Campaign
30th Anniversary Gala Dinner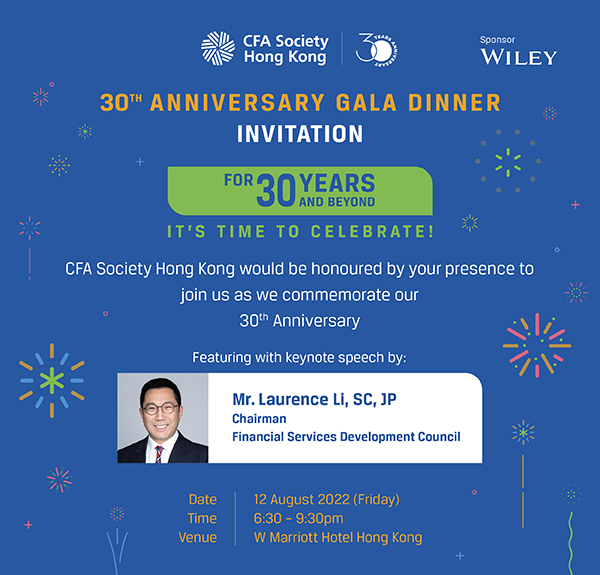 1992
Founded as The Hong Kong Society of Financial Analysts.
1995
Held the first CFA Charter Awards Ceremony in Hong Kong.
2001
Recognized by the SFC of Hong Kong as provider of CPT.
2005
Named Most Civic-minded Society by CFA Institute.
Became the local host of CFA Institute Research Challenge.
2007
Became the 4th largest CFA society in the world.
2008
Hong Kong Baptist University become the first Hong Kong representative to win the CFA Institute Research Challenge (formally known as Investment Research Competition) at the local, regional and global level.
2014
Awarded the Most Outstanding Society Award by CFA Institute.
CFA Control Room is offered in collaboration with Metro Finance Radio and Hong Kong Economic Journal.
2016
The CFA designation is the internationally-recognized professional qualification in Hong Kong SFC's Guidelines on Competence for Responsible Officers and Licensed Representatives.
2018
Named Society Excellence Award by CFA Institute.
Named Strategic Initiative Award by CFA Institute.
2020
Rebranded as CFA Society Hong Kong.
2021
Helped promote CFA Institute Certificate in ESG Investing in Hong Kong.
2022
Named Most Outstanding Society 2022 in the over 1,000 members category by CFA Institute.